Innovation Retail I Création graphique charte d'implantation bornes de paiement 24/24 multifacturier sur les caraïbes
Sélectionné pour accompagner le groupe projet Novatech dans sa réflexion sur ce projet d'innovation, we made graphic design an implementation charter payment machines multifacturier on Martinique,,fr,Graphical representations of architectural integration,,fr,A dozen sites passed the question,,fr,A refund policy attention based on graphical representations spacial - co-built with all stakeholders,,fr, un bon moyen pour valoriser la proximité des services et dynamiser la relation client !
La méthodologie employée c'est appuyée sur une phase d'immersion : visites de lieux présentis, des enquêtes terrain suivie de restitutions propositions et recommandations portant sur :
Les attentes intérêts et conditions de succès du projets auprès des usagers, agents…
L'articulation avec ses dispositifs d'accueil paiement en agence ou internet.
La valorisation du service paiement.
La gestion des flux et leurs traitements.
L'organisation des espaces.
Le traitement des abords et l'accessibilité au service libre service.
Des représentations graphiques d'intégration architecturale.
L'intégration des règlementations applicables pour ce types d'installations ouvertes au public.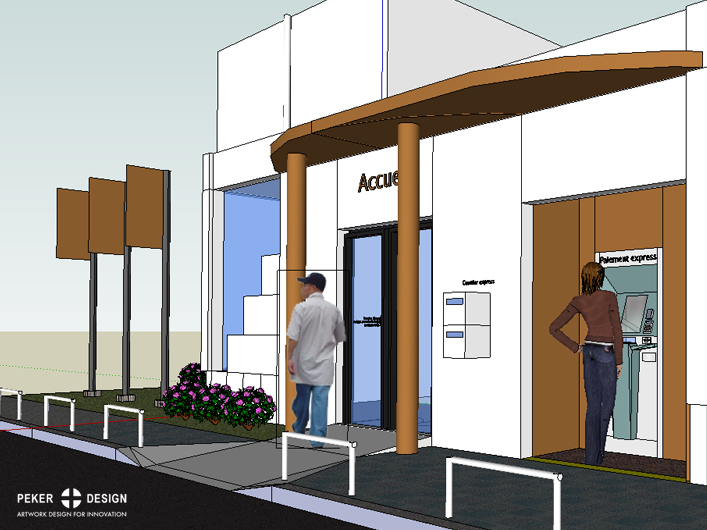 Au total :
Une dizaine de sites passés à la question.
Une cinquantaine d'interviews réalisés, clients, agents, responsables travaux confondus.
Réunions de lancement et de restitution intermédiaire, décryptage et mise en convergences des process métiers et expertises avec le groupe projets.
Une restitution à l'attention des décideurs s'appuyant sur des représentations graphiques spaciales – co-construites avec l'ensemble des intervenants
Des propositions et solutions pertinentes et valorisantes, permettant de lancer les demandes d'autorisations et travaux d'aménagement sur des bases solides.
En bref , une mission réalisée dans les meilleures conditions.
Un retour jugé fort utile :
Quand au partage d'expériences et d'expertises,
De méthodologie employée,
D'attention portée aux aspects humains et relation clients,
D'intégration de l'ensemble des contraintes réglementaires,
De valorisation de l'implantation de ces dispositifs innovants de désenclavement et d'extension horaire de service.
Nous tenons a remercier l'ensemble des directions générales, collaborateurs et clients de Novatech, pour la qualité de leur accueil, l'accès au partage d'informations qu'ils ont rendu possible et leur participation à cette étude.